Pomegranate and citrus salad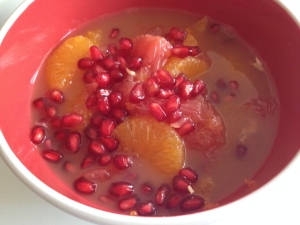 for 2 people
INGREDIENTS:
1 grapefruit or one large orange a can of grapefruit segments in juice
2 clementines or can of prepared clementines in juice
1/2 pomegranate
a few drops of orange blossom flower water (optional)
INSTRUCTIONS:
Keep citrus in the fridge for a few hours
Prepare the grapefruit and clementines into segments check this link if you don't know how.
Prepare the pomegranate, check here for instructions.
Add the pomegranate seeds to the citrus and its juice
Add the orange flower water and mix everything together
enjoy!