Orange and Cinnamon biscuits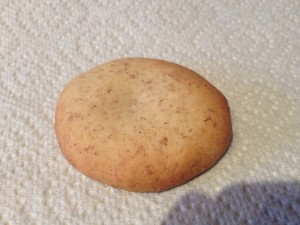 Ingredients:
– 100 gr butter
– 1 egg
– 75 gr caster sugar
– 150gr plain flour
– 100 gr of whole grain flour
– a pinch of salt
– juice of half orange
– cinnamon
Instructions:
1-pre heat the over at 200C
place the butter in a microowave safe bowl, cover and melt in periods of 20 seconds at a time.
2- Mix the egg and the sugar until you get a yeloow cream.
3 – Add the cinamon and the oragen juice and mix alltogheter
4- add the flour and the butter and knead to form a soft dough.
5 – with your hand give the shape you want to the biscuits and add them to a baking tray.
6- bake at 200 C for 12 to 15 min