Butternut Spagetti Carbonara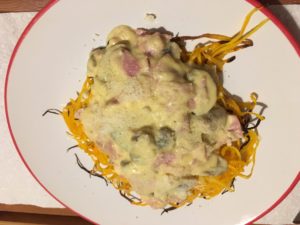 Ingredients:
100 gr of butternut spaghetti (you can buy it in this form or spiralise the butternut squash yourself)
olive oil
150 gr of mushrooms
1 clove of garlic
50 gr parmesan
2 egg yolks
100 gr of creme fraiche
80gr ham
Instructions:
preheat the oven to 200C
grease a baking tray with olive oil add the butternut spaghetti sprinkle with some more olive oil
add some salt and pepper
roast for 7 minutes or until cooked
reserve
slice the mushrooms and chop the garlic finely
add to a pan with a bit of olive oil and fry the mushrooms until cooked.
in a bowl beat the egg yolks and the creme fraiche
add the parmesan cheese, reserve some to sprinkle in the end.
add the previous to the pan
add the ham shereded.
season with salt and pepper
mix all together and let it cook for a bit until it simmers
add the spaghetti to the dishes
add the sauce on top
serve right away.