Basic Biscuits (shortbread style)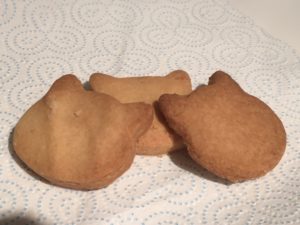 Ingredients:
250 softened butter
60gr caster sugar
1 egg yolk
2 tbs of vanilla extract
300gr of plain flour
Tip for the butter:
If you just have cold one a few seconds in the microwave should do the trick but make sure you don't melt it! Just make it soft 5-10 sec may be enough
Instruction:
preheat the over to 160C
mix the sugar with the butter
add the egg yolk and the vanilla and keep mixing
add the flour and mix all very well, you may need to get your hand in in the end
you can chill the dough a bit (optional)
roll out the dough and use a cookie cutter to make the shapes you want or simply cut some squares with a knife
bake for 10-15min until it started to get golden
You can use this as a base and add onto it. for instance you add zest from 2 lemons to the sugar and butter mix. Or you could add some icing to it.
Icing 140gr icing sugar + 5 tbs of lemon juice.